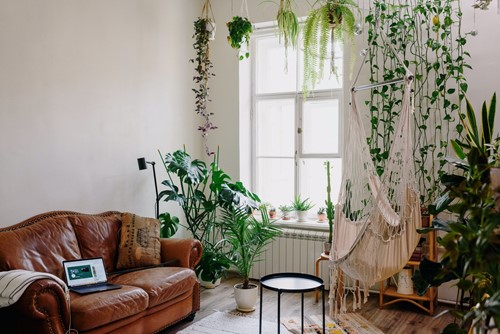 If you're looking for inspiration for a living room style makeover, consider boho chic as an option. The boho chic style is fun, cozy and inviting—perfect for a room where you'll spend time with family or housemates. If you're not sure where to start with the style, it's easy to take the basic elements and apply your own unique twist. Here are some things you'll want in your boho chic living room:
A Rug (or Two)
A good rug is essential in every boho style room and combining multiple rugs is an option to add instant dimension and boho aesthetic. No matter what type of floor you have in your living room, go for at least one large rug and consider mixing in smaller ones under various furniture. Placing your rugs at angles will feel more casual and spontaneous while still being cozy. If you're not sure what style of rug is best, opt for Persian or Moroccan style over-dyed rugs. Anything with good texture or pattern will make a bold statement and start your boho design off right.
Whimsical Window Treatments
Similarly to rugs, drapes and curtains are a must-have for a boho interior space. Even if you don't intend to use curtains, hanging them for the decorative appeal can make the room feel softer and enhance the boho vibe. This is another place where you can go bold with color and pattern or instead opt for airy neutrals like white and cream. Gauzy or sheer curtains are perfect for adding style while still keeping the design light and comfortable rather than overwhelming. If you're looking for additional ways to style curtains, try using ornate tie-backs with tassels, pom-poms or beads. Layering sheer curtains can also create a unique boho look—just make sure the colors play nicely together.
Eclectic and Mismatched Furniture
If you have a set of mismatched furniture for your living room, you're in luck. Boho chic style thrives in lack of uniformity. However, if you have matching furniture, you can still achieve an excellent boho vibe. You can try adding in additional furnishing pieces for pure aesthetic, like small end tables or shelves to display smaller items. You can add boho chic character to your furniture by decorating with accents and accessories like books, lanterns and even draped fabric. Toss a textured throw blanket over your sofa or chair for extra coziness and when in doubt, add more pillows. Mixing patterns, colors and prints will enhance the boho look and feel.
Don't Forget Plants
Plants are always nice to have in your living room for the touch of greenery and air-purifying qualities. However, they're also a way to add instant boho style. The type of plants doesn't matter, but the more you have, the better. Try arranging them on floating shelves or hanging them with oven macrame holders. Trailing vines and other dangling plants will look great hanging down bookcases, in windows or on a coffee table. If you don't want to use real plants, artificial plants work just as well for aesthetic and don't require any care other than occasional dusting. Try a large statement plant to add dimension and style to a room or lots of smaller plants in mis-matching pots.
These four tips will give you a head start in designing your own boho chic living room you'll love spending time in. The best thing about boho chic as a style is that there are really no rules as long as you keep the elements casual, inviting and fun.